Will Minnesota's new foreign trade office in Dusseldorf, Germany equate to increased business opportunities?
Minnesota Governor Mark Dayton completed a trade mission to Europe which included stops in Germany, Norway and Sweden. Governor Dayton travelled with a consortium of business leaders to Europe in June of 2013 in an effort to promote Minnesota exports and attract foreign direct investment into the state. During the trip, Governor Dayton announced that a foreign trade office representing Minnesota business interests would open in Dusseldorf, Germany. Dusseldorf is located in the North Rhine Westphalia (NRW) region and is the "Twin City" to Neuss, Germany. Neuss and Saint Paul, Minnesota have maintained a strong Sister City relationship since 2008. Germany is centrally located in Europe and serves as a hub for many industries. In addition, the strong German economy makes the location an excellent choice for expanded international presence.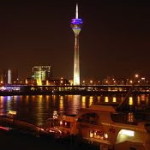 As a precursor to Governor Dayton's trip in June, a group of 26 Saint Paul leaders representing a cross-section of businesses travelled to Neuss, Germany in support of the Sister City relationship and it's long standing ties between Minnesota and Germany. A large group of Saint Paul young professionals from the Saint Paul Area Chamber of Commerce  joined the trip. The young professionals support and inclusion in the trip was perhaps instrumental in strengthening the ties between the two cities. "I decided to go on the trip because I believe in the power of international networking…and I know that the relationship between Saint Paul and Neuss is so powerful." states Ingrid Christensen, one of the trip participants.
The presence of a foreign trade office is very powerful and leads to increased business opportunities. An office represents a willingness to engage in import/export endeavors and opens up options for global competitiveness. For example, the state of Pennsylvania invested $6 million in 2011 to open 11 foreign trade offices producing $831 million in export sales.
Investing in actual office presence reflects the seriousness of both parties to engage in increased global trade activities. The investment in opening an international office is expensive yet the Governor realizes that the benefits outweigh the risks. For example, Minnesota opened a similar office in Shanghai and exports to China increased by 71% in the first year.
Germany is Minnesota's 5th largest trade partner with a value of $728 million in sales. This is a huge opportunity for Minnesota businesses focusing on international expansion. Going global is on the forefront of most Minnesota businesses and Governor Dayton's support in international expansion reflects that movement.