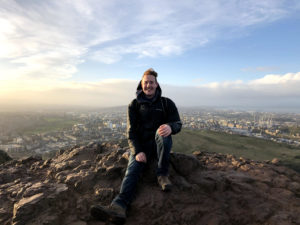 Here at INGCO International, we're proud of the deep experience and profound skillset our people bring to our mission of ensuring every person has access to critical information. Our small but mighty team of talented professionals are the lifeblood of INGCO and enable every accomplishment we achieve, and we want to introduce you to some of these amazing employees.
Today, we invite you to meet Andy MacGregor, who manages the Sales Team at INGCO International. Andy is originally from Portsmouth, United Kingdom, but he's a true citizen of the world, having lived in seven countries across four continents. Six years ago, he moved to Minnesota. His love of travel and the many cultures and languages that make up our global community compelled him to join INGCO in September 2020.
While Andy speaks a little French, Georgian, and Spanish, he's in awe of our multilingual staff members and linguists and loves connecting with customers and potential clients to share how expert language services can help them truly engage with their global audiences.
"Interpretation and translation services can really level up a business and help them engage with their non-English speaking customers, colleagues and community," Andy explains. "Language can bring us together, but it also has the power to divide. Providing people with equal access to information gives everyone a fair chance to show who they can be, to make a difference, and to engage with their community. I feel I can help redress these imbalances by doing what I do at INGCO. I love being a part of a team where I can make a little difference each day by connecting organizations with our excellent services."
Andy is also a bit of a foodie and enjoys sampling cuisine from cultures and locations across the world, and he loves giving back to the community. Recently, Andy combined these passions to support a  project with local Minnesota foodbank Second Harvest Heartland in which INGCO helped translate a series of recipe cards into a variety of languages and help people make affordable, delicious and nutritious meals to feed their family. "The food we put into our bodies is so important," he shares, "And it can be confusing to know what to do with new ingredients, especially if you're from a different culture, so it was incredibly satisfying to help make a difference with this project."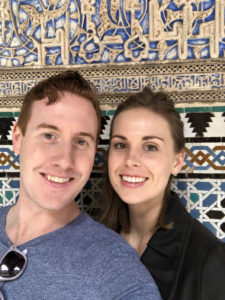 When he's not at work, Andy's your classic tea-drinking, soccer-loving Brit. He's also an expert hide-and-seeker and fort-builder thanks to his two daughters, Eva 3, and Kiera 1. This avid traveler's favorite trip was to Machu Picchu in Peru, where the sun rising over the old ruins created an indelible impression. Andy would also love to see the Himalayas up close.
Andy loves linking up with new and old friends and hearing great stories, so feel free to reach out to Andy to connect about INGCO International, travel, or soccer. Heck, the first cup of tea is on him.