August 1, 2013
INGCO International President Ingrid Christensen to take on the Double Dog Dare
Up to 100 brave souls will perform a death-defying rappel down the EcoLab Headquarters in Saint Paul, Minnesota on Friday the 13th of September.
The event is a fundraiser to support the Northern Star Council which represents the Boy Scouts.
"When do you get to dangle yourself from the roof of a skyscraper and rappel down 22 stories?" remarked Christensen.
Wait, what, you're not scared, are you?  We dare you, we Double Dog Dare you.  It's the thrill of a lifetime for a great cause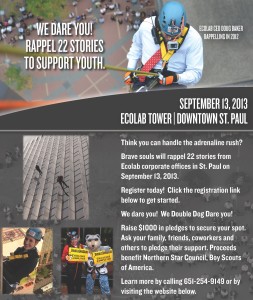 www.craziestfundraiserever.com
Christensen is excited to participate in the Double Dog Dare: "I like doing things that take me out of my comfort zone…It makes me a better leader and sets a good example for our employees." INGCO International is committed to supporting community organizations that work with children and provide opportunities for them to experience new challenges.