INGCO International Earns ISO 17100 Certification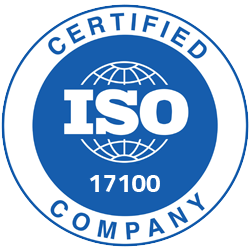 INGCO International, a global leader in interpretation and document translation services, announces it received independent certification that it complies with the International Quality System ISO 17100 for its professional translation services. This follows their previous ASTM International Certification for language services companies for both their translation and interpreting departments.
ISO 17100:2015 provides requirements for the core processes, resources, and other aspects necessary for the delivery of a quality translation service that meets applicable specifications. Application of ISO 17100:2015 also provides the means by which a translation service provider (TSP) can demonstrate conformity of specified translation services to ISO 17100:2015 and the capability of its processes and resources to deliver a translation service that will meet the client's and other applicable specifications.
"I am honored to join the ranks of this distinguished Certification. International standards as established by the International Quality System proves that as a language service provider, we consistently deliver translations that conform to the stringent requirements." Ingrid Christensen, President + Founder, INGCO International