Introduction to simultaneous interpreting equipment
The quality and reliability of the simultaneous interpreting equipment determines the quality and reliability of the simultaneous interpretation, and the success of your meeting. With over 20 years of simultaneous interpreting experience, INGCO International is happy to share some basic information about simultaneous interpreting (SI) equipment.
Managing simultaneous interpreting projects is a complex job and requires trained technicians to support the difficult task that the interpreting team has. The SI team will be best able to perform with standardized soundproof booths, microphones and delegate headsets, and with the support of your INGCO International on-site event manager.
What is needed
The simultaneous interpreting equipment that we provide includes:
One encapsulated soundproof interpretation booth per language
Interpreter consoles
Mixer
Transmission system
Headset receivers for attendees
Headset receivers for interpreters
Microphones for interpreters
As your SI equipment supplier, INGCO International will advise you on the specific needs for your meeting, taking into consideration all of the individual details unique to your event.
Simultaneous Interpreting Soundproof Booths
For simultaneous interpretation you will need one booth per language. The booths should conform to ISO 2063 (built-in) or ISO 4043 (mobile) booth standards.
Booths should be completely encapsulated and sound-proof with have a silent ventilation system to ensure communication and trouble-free listening by attendees.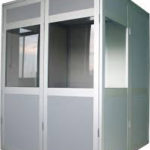 The ISO 4043 and 2063 Standards include the following details:
Size: A mobile 2-person booth measures 5.5 feet wide x 5 feet deep x 6.5 feet high.
Location: Booths must located so the interpreters have an unobstructed clear view of speakers and of the screen used for presentations, and allow them to gauge the reaction of participants.
Windows: Booths should have clear (not tinted) glass or plexiglass windows – one covering the front from table height to almost top and one covering the front half of each side.
Ventilation: Each booth must have a silent ventilator, usually fit into the roof at the back, and be properly sound-proofed.
Other! Each interpreter will need a comfortable chair that doesn't squeak, printed presentations, printed glossaries, scratch paper, writing utensils, bottles of water with closing lids and a moveable desk lamp.
We are looking forward to working with you on your next multilingual conference or event.