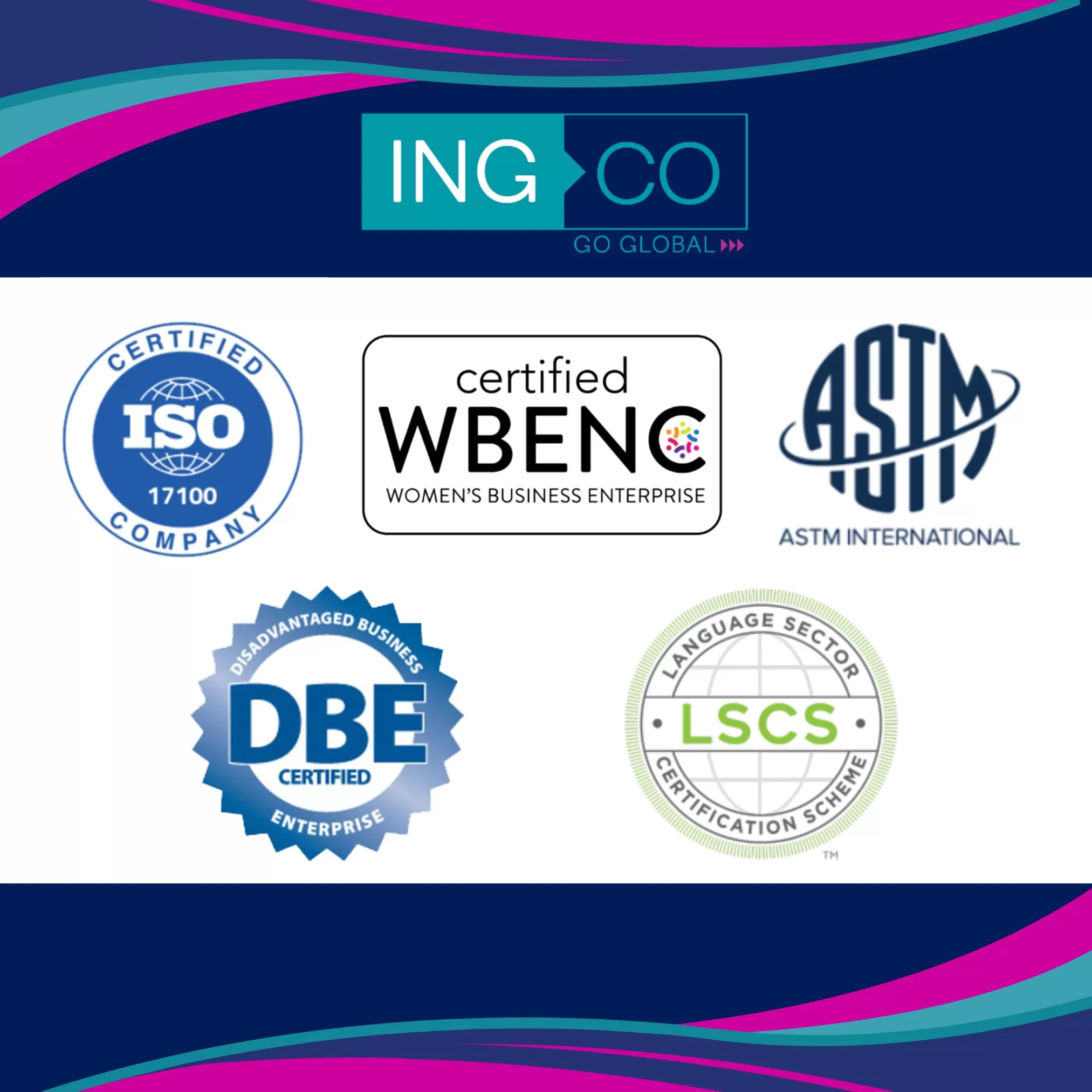 FOR IMMEDIATE RELEASE
INGCO International, a Boutique LSP, is Exceeding Industry Certificate Standards and Making Big Moves in 2023
As of June 2023, INGCO International holds the following coveted certifications:

ASTM F3130-18: Ensuring our adherence to rigorous standards for language services (1 of 8 LSPs in the US)

ISO 17100: Demonstrating excellence in language translation services.

WBENC: A certified Women's Business Enterprise.

NSGCIS: Committed to maintaining a high level of community interpreting services.

DBE: Disadvantaged Business Enterprise (DOT)

WOSB: certified Women-Owned Small Business (SBA)
MINNEAPOLIS, Minn. Jul. 18, 2023 – INGCO International now holds 6 highly-coveted, active certifications allowing them to participate in select RFPs, partner with specific clients, and increase their reputation of high-quality translations and interpretation.
"I'm honored to be leading such an incredible group of professionals who keep quality, accuracy, and our clients' needs top of mind. We have laid a solid foundation, are investing in technology, and are ready for strategic growth through the end of this year and in 2024," said Ingrid Christensen, founder and CEO of INGCO International. "With these certifications, we plan on focusing in the corporate sector but will always have dedicated community efforts in education and non-profit organizations."
Also in June 2023, INGCO International was awarded the highly sought-after Capital One CATAPULT program, a Diverse Supplier Business Development program said to be a six-month intensive transformational journey, to launch an exciting new service that the industry has not yet captured.
"This new service has been on my mind for years, and we finally have the internal team and Capital One advisors to plan and launch effectively and successfully. I don't know of anyone else in the language industry performing this service that will help larger organizations save thousands of dollars."
About INGCO International
INGCO International is an award-winning language service provider, formed in 2006 and headquartered in Minneapolis, Minnesota. Their mission is to provide people with equal access to information, no matter where in the world they live or what language(s) they speak. INGCO helps companies connect with consumers across the globe with expertise in translation, interpreting, website localization, desktop publishing, voiceover services, live captioning, and more. INGCO is in compliance with all data privacy and client confidentiality under the Governmental Data Practices Act and HIPAA. INGCO focuses on quality, commitment and has has a strong devotion to diversity, equity, inclusion, and belonging (DEIB).
###
Media Contact:
Callie Murray
(612) 605-8006 Ext. 901