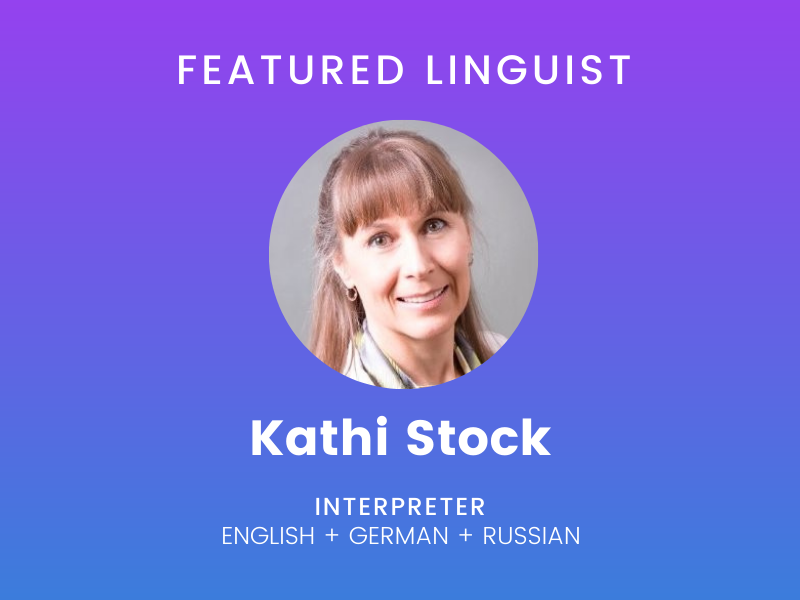 As a valued interpreter at INGCO International, Kathi Stock brings new meaning to the word experience. Describing Kathi's history would require a course spanning multiple decades and continents—from East Germany to America and through a myriad of jobs translating along the way.
Long story short: Kathi was born in the state of Saxony in Germany and now lives in Dallas, Texas. She's married with two adult sons and one granddaughter. Kathi has taught English, translated for a cable TV company, passed the state certification exam for translators and interpreters in Germany, earned her Texas court interpreter license, and sat for the U.S. State Department exam. 
Kathi enjoys a lot of physical activity, including regular bootcamp-style workouts. In addition to those, she walks, kayaks, fishes, and practices yoga. She usually gets up very early in the morning to get her workouts done, sharing, "On the weekend, I spend these early morning hours at the lake kayaking and/or fishing, watching the sunrise – that is my happy place. And of course, I love spending time with my six-year-old granddaughter."
Kathi also volunteers at her local animal shelter, where she participates in the "Jog-a-Dog" program, taking the shelter dogs for walks until they are adopted into their forever homes. When asked if she's tempted to take any of the stray animals home, Kathi said, "Since we took in a stray cat that showed up when my sons went off to college, I don't really get tempted to bring any of the dogs home. Our cat wouldn't be amused." 
But don't be distracted by Kathi's amazing history because she sure isn't. She is laser-focused on her job and loves the variety of topics, companies, and customers she gets to work with. "My days are never the same," she explains, "there is always something new to learn and to discover. I believe this is exactly what keeps me fresh and on my toes. I love learning new and different aspects of anything and enjoy the challenge of widening my horizon."
And we love having you onboard at INGCO, Kathi!