Can you guess where Mabel is this week?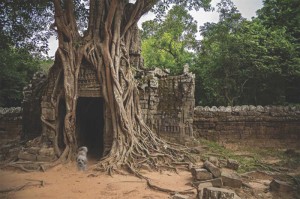 Mabel is at Angkor!
Angkor is an archaeological site in Cambodia's northern province of Siem Reap. It extends over 400 square kilometers and consists of numerous temples, hydraulic structures (basins, dykes, reservoirs, canals) as well as communication routes. The architecture and layout of its successive capitals bear witness to a high level of social order and ranking within the Khmer Empire. This site, therefore, exemplifies culture, religious and symbolic values, as well as archaeological and artistic significance.
The official language of Cambodia is Khmer. Khmer is an inherited language–with application of Indic languages: Pali and Sanskrit from India. Also, the Khmer language is influenced by spoken and written Thai. Some technical languages of Khmer are borrowed from French as well.
Words and phrases in Khmer:
English
Khmer
Hello

How are you?

Good morning

Good night

Afternoon

My name is…

Yes

No

Please

Thank You

Excuse me

Goodbye

I don't understand

I want a…

Water

Doctor

Policeman

Toilet

jum-reap soo-a

tau neak sok sapbaiy teh?

arun sour sdei

tiveah sour sdei

reah-trey sour sdei

k'nyom tchmouh…

baat

dteh

suom mehta

or-koon

sohm dtoh

joom-reap leah

k'nyom men yoo-ul tee

k'nyom jang baan…

teuk

peth

bpoa leeh or norkor-bahl

bangkon
If you need to communicate with a client in Khmer give INGCO International a call! 
original image found at google.com