Can you guess where Mabel is this Monday?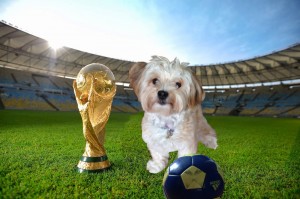 The World Cup Brazil! 
In honor of the FIFA World Cup kicking off last Thursday, INGCO International sent Mabel to Brazil (and look, she even brought her own ball!)
The FIFA World Cup, often known as simply the World Cup, is an international association football (which those in the US call soccer) competition contested by the senior men's national teams. This championship has been awarded every four years since the inaugural tournament in 1930, with the exception of 1942 and 1946 when it was cancelled because of World War II.  Each competition is held in a different host nation; this year the host is five-time champion, Brazil.
Brazil is one of the most culturally diverse nations in the world although their language is much less varied.  Due to the mass Portuguese settlements during the 16th, 17th, and 18th century the official language is Portuguese. With nearly 100 percent of its population speaking Portuguese, language is one of the strongest elements of Brazil's national unity.  Brazil also has (very) small numbers of indigenous persons and immigrants who still speak in their native tongues.
 Common words and phrases in Portuguese: 
English Phrases

Portuguese Phrases

Hi!

Oi!/ Olá!

Good morning!

Bom dia!

Good evening!

Boa noite!

How are you?

Como vai você?

I'm fine, thanks!

Bem, obrigado! (men)/ Bem, obrigada! (female)

And you?

E você?

Good/ So-So.

Bem./ Mais ou menos.

Thank you (very much)!  

(Muito) obrigado (men)/ (Muito) obrigada! (female)

You're welcome!

(in response to "thank you")       

De nada! / Às ordens!

Good night!

Boa noite!

See you later!

A gente se vê mais tarde!

Good-bye!

Ciao!

I'm lost

Estou perdido/ perdida (female)

Can I help you?

Posso ajudar-lhe?

Can you help me?

Você pode me ajudar?

Where is the (bathroom/ pharmacy)?

Onde fica (o banheiro/ a farmácia?)

One moment please!

Um minuto, por favor!

How much is this?

Quanto custa?

Excuse me… (To ask for something)

Por favor….

Excuse me! (To pass by)

Com licença!

What's your name?

Qual é o seu nome?

 

My name is…

I need a doctor

I'm hungry/thirsty.

Meu nome é…

Preciso de um medico

Estou com fome/com sede

 
INGCO International is an international communications firm specializing in translation, interpreting and global marketing services — interested in communicating with your potential client in Portuguese? Give us a call!