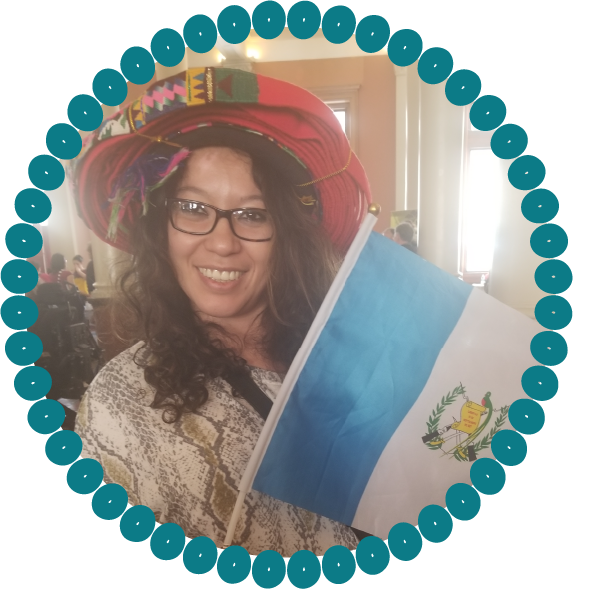 My name is Dory Cristina Montenegro, I'm originally from Guatemala and I have lived in Minnesota for 13 years. I studied Political Science at Universidad San Carlos de Guatemala and as this career requires two languages, I started studying Italian. Unfortunately I was not able to finish my career due to moving to the United States so long story short, I speak English, half Italian and currently I'm learning Spanish Sign Language with the Deaf Association of Guatemala (thank God for technology). I, as many of us, like to travel so any time I have a chance I'll travel by plane or car but my favorite place to go is always home. I try to go home every two years. I am a fan of football, soccer and any sport in between as well as I'm always into politics, economy, health, education and more. I love to read – you will always see me with a book (or two). I love to listen and learn and always will fight against injustice. I love red so there is a little detail of red with me all the time!
I'm a fairly new interpreter and have only been doing this for about two years, but I've always wanted to enter this wonderful profession. I started as an education interpreter and then I combined it with medical interpreting. I currently have the opportunity to do some immigration related jobs, I love to work in the education field and do educational evaluations. I had the opportunity to work as a teacher back home so this feels really natural to me. I have innumerable different opportunities in the medical field as this specialty is very vast.
I also have the opportunity to provide simultaneous interpretation with INGCO International, one of my favorite skills as this poses a great deal of detail and accuracy, tone, and much more.
My favorite part of being an interpreter is being able to have LEPs* feel comfortable with someone else's voice and be well informed with a well understood outcome after each job is done. The trust put on me to convey the message is immense and I feel compelled to respond and put that trust into words so LEPs and their family members can truly have a voice.
I have an immense pleasure and I'm humbled to be able to be part of something that is greater than anyone can understand, as it's not only being an interpreter but constantly being flexible, willing to invest in continued education, listening to co-workers feedback as well as clinic personal, acting with high professionalism, sticking to my values and privacy policies, and so much more. All of these things make me love this profession and to always give the very best of me each and every time.
Dory Cristina Montenegro – Interpreter
* Limited English proficiency (LEP) is a term used in the United States that refers to a person who is not fluent in the English language, often because it is not their native language. Both LEP and English-language learner (ELL) are terms used by the Office for Civil Rights, a sub-agency of the U.S. Department of Education.