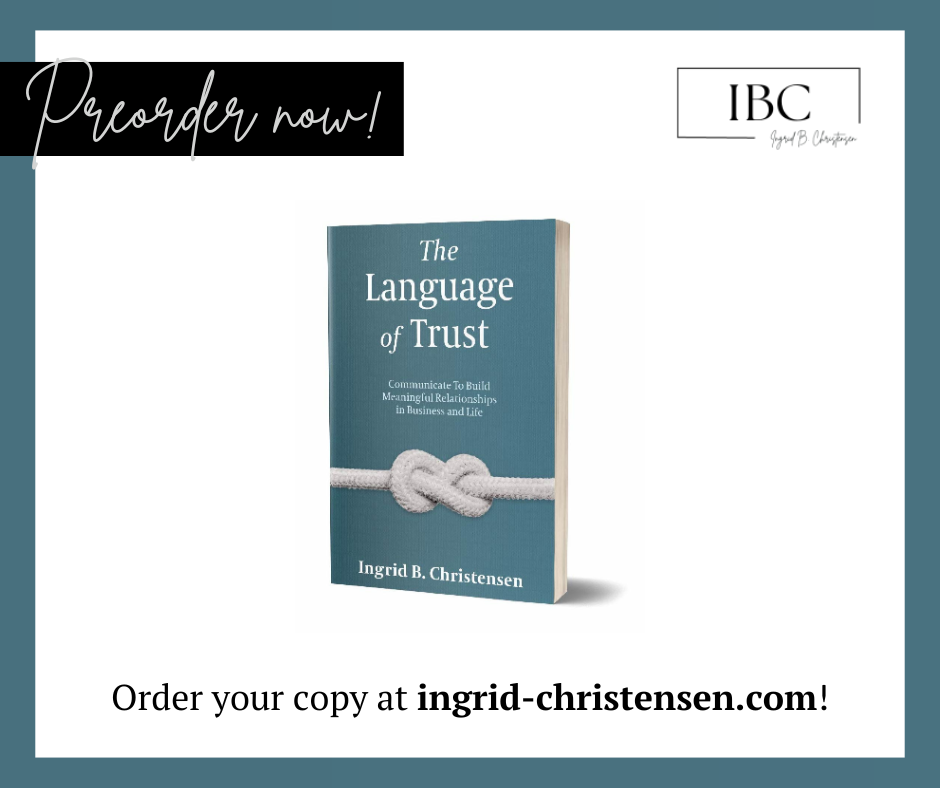 "This book is for anybody who cares about trust; those who are interested in what trust means and what the act of trusting and creating trust demands. Brave trust is trusting when you don't want to. On the days when you don't feel like it, even when life has taught you not to trust, I hope this book changes your mind. If you are willing to be vulnerably brave with trust, this book is for you."
From the Introduction of "The Language of Trust: Communicate to Build Meaningful Relationships in Business and Life."
Trust is at the root of everything we do in business and in life. Perhaps no one knows this better than INGCO International Founder and President Ingrid Christensen. As she prepared to share her first book with the world about all things trust, we sat down to ask her more about writing "The Language of Trust: Communicate to Build Meaningful Relationships in Business and Life."
When did you first get the idea for this book?
I'll never forget this moment. I was in Cancun with my friend, Paula. She was deep into the book writing program that I eventually completed. She also happens to be a very persuasive person.
We were walking on the beach chatting about all things life. As a native of Brazil, Paula has lived in several countries where she had to find her voice in languages not her own, oftentimes with other's help – so the concept of trust in language was something she could relate to firsthand. 
As I talked more about the ideas that would eventually be in the book, Paula suddenly stopped, grabbed my shoulders, looked me squarely in the eyes and said "you must write this book." She also ensured I set up a meeting with Professor Koester, the founder of The Creator's Institute, by the end of the week. At that moment, I knew that I had to listen to that little voice, nagging me to make this dream a reality.
What do you tell people this book is about? Who should consider reading it?
This book is an exploration of all things trust – what it is, how to get it, how to keep it and how to regain it after it's lost. It's written through the lens of Language Service Providers – specifically through my own stories of witnessing trust come to life – but the principles apply to anyone that wants to be a better version of themselves, in business and in life. 
And that's my biggest hope for this book – that it will inspire readers of all backgrounds and professions who are looking to forge deeper connections with the people in their lives. To realize that every word we use matters, especially when you're given the incredible responsibility of being someone else's voice. 
What  was the hardest part about writing this book? What came easy?
Surprisingly, (or perhaps not so surprising!), one of the most difficult parts of this book has to do with language – specifically the subtitle. I found it next to impossible to find a subtitle that felt as powerful and inspiring as "The Language of Trust." I went through hundreds of options before my editor let me know the one we selected was a winner. 
While nothing about writing this book felt particularly easy, I would say what felt most natural was the physical writing process itself. That feeling of really getting into the flow. I found myself completely immersed for hours at a time in a unique sort of rhythm while writing. It was an ethereal feeling unlike anything I'd experienced before. 
Tell us more about the imagery of the "knot" on the cover.  
The knot represents the enormous effort that goes into trust creation. For me, it stems from the formation of the rope – strands of thread spun together one at a time. The rope is then comes together to create a formation of give and take that is continuously tested over time. 
Trust symbols are powerful because they instantly convey all that trust encompasses, from the very personal to the extreme complexities of the fabric of communities that surround us. Symbols, present throughout history and today, remind us of the qualities that they represent. 
I believe the knot, in particular, evokes a deep knowing of what is required to build and sustain trust. Knots are convoluted, turned around upside down, twisted and intertwined – precisely as humans are. Knots are perhaps the most perfect metaphor for trust because they represent safety, interconnectedness, and yes, even confinement and captivity. Trust, while incredibly powerful in unification, also is a binding commitment. Knots hold us safe and serve as a reminder that we have the power to untie that which binds us in an un-serving way.
 The Language of Trust: Communicate to Build Meaningful Relationships in Business and Life is available for pre-order now and will be published on March 14, 2023. Click the link above to get your copy and hear what others have to say about it.