Document Translation Services
Our translation quality control process guarantees the highest quality in international communications, which is proven by our innovative document review standards.
Corporate Translation
Community Translation
Whether you are launching a new website or mobile application, translating your product catalog for your international sales staff, or training your limited-English speaking staff on policies and procedures, we are here to make sure your translation project succeeds. We match our translators' skills to your project. Do you need your restaurant's recipes translated for your back-of-house staff? Are you looking for legal document translation? Or maybe you are manufacturing products for the global market? Translating these documents requires a specialized translation team made up of translators, editors/proofreaders, and creative experts. We have just the right translation team for you. Our translation team will help you achieve your goals. Our innovative translation-team approach consists of translators, editors, proofreaders, creative experts, and a dedicated project manager to ensure 100 percent accuracy for your translation project. The American Translator's Association is the primary certifying body for international translations, and sets the bar high for quality and control. INGCO International is a proud member of the ATA and vows to uphold the stringent guidelines.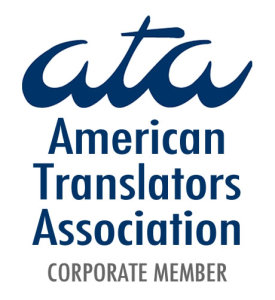 Corporate Translation
Our corporate translation services division works with mid to large sized businesses that need to communicate effectively to customers or employees.
Working on-site or virtually, our certified corporate translators specialize in verticals that match our clients' needs. From life sciences to marketing and human resources to pharmaceuticals, we have a network of translation experts across the globe.
Websites
Legal Documents
Human Resources
Training Material
Community Translation
Our community translation services division works with community-based organizations that need to communicate with clients or employees.
Our certified community translators work with written documents such as school and health care facility communications in over 200 languages.
School Districts
Health Care Facilities
Social Services
Non-profit Organizations
Legal Translation Specialists
Our network of over 3500 specialized legal translators possess strong global expertise in the legal sector. Through our experience working with Fortune 500 legal departments and the world's largest law firms, we are recognized as a first choice for legal translation and interpretation solutions.
We provide exceptional results for our clients by only employing certified translation teams and project management staff with relevant legal translation experience. Available around the world and around the clock, our legal translation specialists offer outstanding foreign language support for any project.
Legal Translator Knowledge
Legal documents can be complex and unclear, and arguably more significant to get exactly right than translating customary documents. We carefully identify the type of document, the nature of information being translated and how the translation will be used. Our team of skilled translators, proofreaders and dedicated project managers have the bandwidth to tackle large volumes of documents for any discovery process, deposition or legal proceeding.
Contracts
Notarized Documents
Corporate and Government Proposals
Transcripts
Discovery Material
Legal Briefs
Witness Statements
Last Will and Testaments
Birth and Death Certificates
Marriage and Divorce Certificates
Financial Statements
Immigration Documents
 We understand there are many different areas of law that a qualified translator should be familiar with. These areas can include mergers and acquisitions, employment and benefits, antitrust, insurance, intellectual property (IP), private equity, litigation, real estate, and tax.  We are confident knowing that our linguists possess a strong familiarity of the subject matter that applies to the scope of your request.
Legal Translator Selection
By utilizing our legal translator assessment tools, we have the unmatched ability to select linguists who have in-depth knowledge of a given field, along with professional ethics, industry protocols and specialized terminology. By selecting the best legal translation specialists, we guarantee top-notch translations and interpretation services that fit into our client's time and budget constraints.
We certify that our legal translators:
Are native speakers of the target language
Possess a college degree in translation and/or interpretation with five years of experience; or possess a college degree and seven years of professional experience in translation and/or interpretation
Have documented translation experience in the subject area
Provide three references, at least one of which must be from a direct client
Maintain residency in their native country within the past five years
The INGCO Translation Secret? Native Speakers + Valid Certification + Industry Expertise
In addition to our rigorous linguistic vetting process, we continuously evaluate our work making certain that it always meets the highest industry standards.
Translation Quality Assurance Protocol
→ Our translation teams are made up of a translator(s), editor(s) and proofreader(s). We have devised a system made up of checks and balances powered by a team that continuously communicates and works together to make sure the finished product is flawless.
→ Content is always proofread by a 3rd party reviewer; therefore, any inconsistencies will be flagged and the translation to be reworked until precision and accuracy has been reached.
Our dedication to superior quality goes hand-in-hand with our commitment to upholding the integrity of our business, our employees, and our legal translation specialists. We promise to meet our client's expectations, helping them to save time and money.
We Understand the Nuances of Language
Textual agreements in a source language are reliant on the cultural frameworks of that language, and therefore, may not always resemble the textual agreements in the target language. What this means is that the linguistic meanings found in the source language may have little to no direct correlation to those found in the target language; however, most translation companies overlook this as a crucial component in the translation process.
Our translators are trained to identify connecting language meanings in the target language that directly relate to the textual meanings found in the source language. We also take into consideration word glossaries, style guidelines as well as not translating and charging our clients to translate repeat text found, certifying that translations are 100% concise, clear, consistent and in accordance with your requirements. We also know how important confidentiality is and are happy to sign a mutual NDA for all highly sensitive documents and court matters.
Interested in a free quote for your legal translation needs? Contact us now.
Localization services work with more than words and concepts, but also with ideas and emotions that beg to be freed from the straitjacket of literal translation.
Translation is a little bit of magic mixed with a little bit of science... resulting in perfectly crafted messages that are actually understood!
The difference between translation and localization is creativity. You can localize your idioms, puns, pop-culture references, geographic humor, nationalistic pride, and all the emotional language associated with a given language. You know it is finally the right time to appeal to a wider audience. You really want that new product to sell, don't you? The translation, localization and globalization services offered at INGCO are the key to reaching your target market. Language localization ensures that your content is spot on for your target market.
This is our task. We will research the target market you plan to enter and connect you to them with our localization expertise. Our teams of localization specialists are the best in their profession and know your target market inside out. If it is totally new for you, get in touch for a free localization evaluation to measure your globalization efforts.
How do you achieve perfect localization?
First, tell us everything about your business goals and vision. We want to understand your business and what you want to achieve to match your needs and expectations so that you are successful on a global scale. The localization industry does not need to be overwhelming.
Second, we will arrange a meeting (in person or online) to discuss every detail of your translation, localization and globalization strategy. We need to understand your business so we can bring you the localization business, and then we will work behind the scenes to take it to the international level. Click here for a detailed look at the localization process and localization services industry.
Then we will work with our international translation team. We will provide you with valuable insights for your target market, and finally you will receive a full localization package. As a general rule, we provide three different language localization options and test them with expert native speakers in your target market.
Who will work with you on your localization project? It requires a balanced team.
Your balanced Wordologist team is made up of multiple specialists will follow the INGCO Way.
Certified Translators
Professional Editors
Marketing & Design Professionals
Copywriters & Creative Writers
Cultural Experts & Trainers
Language Consultants
The linguists we work with are certified by the American Translators Association.
Frequently Asked Questions
What is localization and how is it different from translation?
While translation requires tremendous focus, accuracy, and vast knowledge of languages and their original culture, localization is even more than that. It is the "extra touch" that takes into account the cultural meanings, semiotics, and sense of humor that every different nation or any specific group of people you need your documents to speak to embody. It also involves little things, such as formatting dates, hours, or even currency! All of these details can be easily missed; our team is trained to pick up this errors to ensure that your product shines in every language.
How do I know if my localized website works?
We are a big fan of metrics; we cannot know the level of our success without measuring the results. Your localized website can be measured in several ways. You can track visits to your website via online analytics, such as Google Analytics, where you see visitors' IP address, location and their preferred language. (Don't worry, we can help you with that, too.) You can also track potential inquiries and client satisfaction levels. Metrics will give you a wealth of information as well as further guide us through the process in deciding what detail need to be adjusted for the greatest return on your investment.
Is the localization process worth the investment?
Just keep in mind the amount of money you are putting into the project and think about how many people visit your website daily. This can be called the approximate reach of your website. If you have your "old" version of the website tracked via analytics, see how many people visit it daily then divide the amount of money spent by that number. But wait, that would only cover one day of visits. Actually, what you order is a complete text of your newly localized website, which has the potential to reach that many people every single day. So, all in all, wouldn't it be worth it? How many people do you need to convert to buyers to "break even" from that investment? Localization is not a million-dollar service, so you are probably going to make up for the cost fairly soon. All the conversions after that? They are just pure profit for you. And just think of the advantage it gives you over your competitors to have a beautifully localized website, which speaks to the hearts and not only the heads of your target audience…
How do you know your team is good at global marketing?
Our team members are thoroughly tested before they start working for us. We check their references, past projects, and ask for a test localization project to be completed, which is then checked by native speakers of the target language. We also listen to our previous clients. If they say it is good, we make note of it; if they say it is bad, we make note of it and fix it so that it's even better than it would have been the first time. Our teams are also evaluated or reviewed quarterly - we check the feedback and the popularity of their work amongst others.
What is involved in a global marketing process?
Global marketing is a little bit of almost everything we do. Because marketing is initially a creative process, we compose a full team of translators, localizers, a skilled project manager, and an experienced creative marketer to bring together all the linguistic talents and ideas to create something truly unique. Native speakers of the target language check all our work in this aspect; we make sure your message is carried across and properly marketed whenever you decide to take the next step to the international market. We are responsible for knowing the marketing and advertising trends in the country you are planning to take your services or products into and for knowing all the translation-related nuances that may occur. We will also advise you on how to promote your business in the country you are targeting. You don't have to worry about any of that because we will prepare it all for you.
Is my project in the right hands?
At INGCO International we care about our teams of translators, interpreters, marketers or actors as much as you care about your business and your employees. We work in a professional but relaxed atmosphere and try to get to know our colleagues better. This way, we can ensure the best quality, timely delivery and bags of knowledge for your translation, localization, or global marketing project. Would you like to check us anyway? Call us directly at +1 (888) 499-5516 and chat with us about your requirements, and we will be able to answer all your questions there and then.
What is website localization?
Website localization means adapting the content of your site for local audiences. Essentially anything from design to photography can be localized for a specific country or region, but the number one aspect of website localization is language translation. If you want your business to have global visibility, you'll need to translate your text and by far the best way of doing this is with a company specializing in translation services. There are many details you should consider:
images
content
fonts
colors
layout
How soon should I think about translating my website?
That depends on you, but we love that you are thinking about it! Planning your global communication strategy never comes too early. How 'local' your website localization becomes depends on your needs, so an upfront consultation can save you a lot of time in the long run.
How long does website translation take?
It all depends on the size of your site, and how complex the technical details are. Once you've made the decision to go ahead with the translation it can be tempting to rush the process, especially if your competitors already have localized content for your market. Doing it wrong could damage your reputation and we all know that errors can be shared online in seconds. Take your time to get everything right.
Multilingual Desktop Publishing
Comprehensive multilingual desktop publishing (DTP) can be a lengthy and manual process.
Desktop publishing gives the final look and feel to the localized and translated materials and is usually the last step in localization projects. No matter how good the translation quality may be, even a small layout or typographical mistake will dramatically impact how end users perceive the product or brand. This is even more so on high-profile materials such as marketing and advertising communications, product instructions or packaging.
Multilingual DTP can have a direct impact on the product's regulatory approval and usage.
One incorrectly placed decimal separator in dosage prescription instructions may lead to dire consequences including product recalls, and if a problem with a medical device or pharmaceutical product can be connected to unclear information or instructions provided to users, even liability lawsuits.
Multilingual desktop publishing is a step which should never be underestimated.
We lead the way in providing comprehensive multilingual desktop publishing (DTP) services including:
Format and layout of localized and translated documents to match the original source document
Create PostScript and PDF files for both online and print publication
DTP quality control checks
Create and maintain target-language DTP and typographical guidelines and brand guides
Create templates and document designs for producing online or printed PDF outputs
Content extraction for translation from all DTP applications and formats
Content extraction for translation when original editable source materials do not exist (PDF's, ancient texts, etc.)
Other multilingual services:
Any tool, any platform.
We have the ability to work with all DTP or graphics programs that exist on Windows and Macintosh platforms including:
Adobe® FrameMaker®
Adobe® Photoshop®
Adobe® Illustrator®
Adobe® InDesign®
Adobe® Acrobat®
Adobe® Creative Cloud
QuarkXPress®
CorelDRAW®
Microsoft Office (Word, PowerPoint, Excel)
Discontinued products such as Adobe PageMaker or Macromedia FreeHand
Deliverable file formats.
Ai
EPS
Film
Flash
INDD
IDML
JPG
PDF
Postscript
PPT
SGML
TIFF
XLS
XML
How does it work? Get in touch via email or call us directly at +1 (888) 499-5516. We understand that you are busy and you want to boost your sales right now, so we are not going to waste your time waiting. Let's get straight to business.
How do you get a perfect multilingual desktop publishing?
First, tell us everything about your goals and vision. We need to understand your business and what you want to achieve in order to match your needs and expectations with the perfect multilingual DTP services. Second, we need to know about any deadlines. You are a busy business person; don't worry if you just realized you need your product packaging ready to go for a conference next week. We have a wide network of expert multilingual desktop publishing experts to help captivate your audience. Also, you can tell us about any additional requirements. (For example, do you need conference interpreting for your product launch? Do you need to adapt your paid digital marketing campaign for in international target market? What about translating for SEO purposes?) All of that matters to us, so do not hesitate to tell us a little bit about your translation requirements. At your request, we will gladly share our certified profile with you.